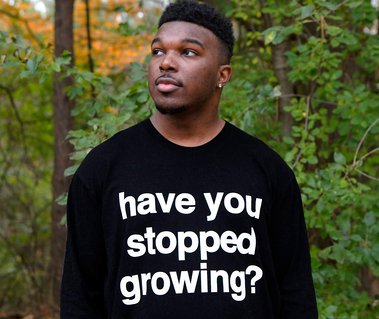 Alexander Robinson is a Black-Canadian, Toronto-based self-taught artist. He works primarily with acrylic paints, but he has expanded his practice to include the creation of his very own art podcast. His current body of work, "Human Nature" uses nature to comment on perception and challenge commonly held stereotypes about race, culture, and identity.
Highlighted as one of Toronto's most promising up and coming artists by BlogTO, Robinson has already gone on to accomplish a lot in his very early career as an artist. He has had his work featured in the Toronto Star, has been selected as an Untapped Artist in the Artist Project's juried competition, has become a Remix Project alumni, and he has collaborated with the Bisha Hotel.
Artist Statement
In my experience I've come to know the gap between how I am perceived by others and how I see myself very well. In my current art series, Human Nature, the visual motif of flower pots is used to capture a duality of perceptions. It is a symbol that can tell a lot of stories and embody things like potential, human development, and the deep responsibility of role models when it comes to shaping and nurturing the youth. It also allows me to tackle the realities of not getting to choose where you are planted and how some of us are put in positions where we need to find ways to thrive under harsh conditions. With all of that being said, this is also a series of artwork where people might just see a pothead and call it a day.
With this art series the goal is to encourage people to look deeper and see beyond the stereotypes that often misrepresent people.